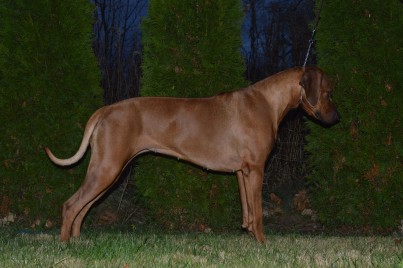 Polish Junior Champion
Champion of Poland
b.16.03.2014
O:WA KISHUJAA ISIMO SIMBA (D)
M:Djembe Meteors NIRIMBA TOFFISTAR (PL)
HD: A
ED: 0/0
OCD: (-)/(-)
D-Locus:(soon)
DCM: free
Thyroid hormones: normal
growth: 62 cm
weight: 34 kg
Characteristics:
SAMBA PA TI-SANTANA is a beautiful and unique female that comes from a culture djembe Meteors led by Aleksandra Marzęcką -Skiba. In her veins flows the blood of ancestors excellent Rhodesian Ridgeback. Samba gets along well with dogs and other animals, although it is an individualist. She loves people and especially children who zalizałaby to death. As every Rhodesian Ridgeback likes long walks intense, grub and lying on the couch. It has a beautiful wise eyes which can almost everything to say.
At the age of 12 months was Polish Junior Champion in the opinion of the judges is bitch in excellent type with beautiful head, strong bones, excellent top and bottom line, capacious chest.